Mattabasset Owners Association Pool Rules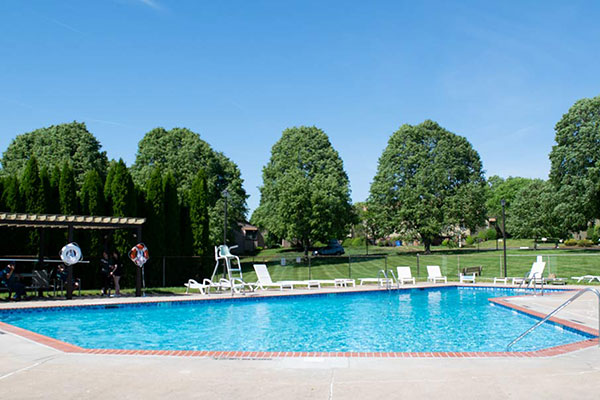 The pool season runs from Memorial Day Weekend to Labor Day weekend.
Pool hours while school is in session are Monday – Friday, 3 pm – 8 pm; Saturday and Sunday 10 am – 8 pm.
Full operation begins at the close of the school year when pool hours will be Sunday – Saturday, 10 am – 8 pm.
An "OPEN" flag will be displayed at all times when pool is open.
POOL RULES:
Admission to pool area is limited to MATABASSET RESIDENTS IN GOOD STANDING. ALL RESIDENTS MUST SIGN IN UPON ENTERING THE POOL AREA AND PROVIDE IDENTIFICATION (License, mail, etc.) TO CONFIRM RESIDENCY AT THE PROPERTY. EACH FAMILY IS ALLOWED A MAXIMUM OF SIX GUESTS AT ONE TIME. ALL GUESTS MUST BE ACCOMPANIED BY A RESIDENT TO USE THE POOL. Adolescents visiting relatives for the summer are not considered residents. CDC Guidelines must be followed when using the pool area. .
Children under thirteen (13) years of age must be accompanied by a parent or responsible person at least eighteen years old, able to swim and attired for swimming. They must assume full responsibility of the children at all times within the pool and bathroom areas.
All persons must shower with warm water and soap before entering the pool. Persons using tanning oils are required to shower before entering the pool.
For the safety and protection of others in the pool: persons with skin abrasions, colds, inflamed eyes, contagious conditions or infections or wearing bandages are NOT TO USE THE POOL.
Spitting or blowing one's nose in the pool is not permitted.
No boisterous splashing, dunking, running, roughness or similar behavior in the pool, on pool deck or in bathroom area is permitted.
Only lifesaving equipment or swimming aids approved by Pool Personnel on duty are allowed in the pool. Infant flotation devices are allowed closely monitored by parents or guardian.
No adult or child will be allowed in the deep-water section of the pool unless his or her ability to swim has been acceptably demonstrated to the Pool Personnel on duty. If needed, the Pool Personnel may ask that ability be shown at any time.
Any child not toilet trained MUST wear swimsuit diaper. DO NOT DISPOSE OF SOILED DIAPERS IN THE POOL TRASH.
Return tables, chairs and lounges to original locations. PLEASE CLEAN UP.
No glass containers or grills are allowed.
Alcoholic beverages, smoking and vaping are not allowed.
Vehicles parked in the designated spaces on Mattabasset Drive must display a parking placard for disabled individuals on the rearview mirror at all times.
The POOL PERSONNEL ARE NOT BABYSITTERS. Parents/guardians are responsible for the behavior of their children at all times in or out of the pool.
Violations of Rules: MOA Board of Directors or Pool Personnel have the authority to immediately suspend the abuser's pool privileges.
Complaints, suggestions or recommendations can be submitted to the office (use brown mailbox closes to pool office building) or call Quality Realty, LLC at (203) 949-1904