Condo I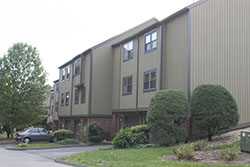 The Mattabasset Condo I is overseen by a Board of Directors elected annually.
The Condo I Association meetings will be held on the third Wednesday of the month at 6:30 p.m. in the pool office. Owners are invited to attend the meetings.
For questions or concerns regarding Condo I maintenance issues, please use one of the following methods:
Use the contact form on this website.
Call 203-237-6187 and leave a detailed message including your name, unit #, phone # and the best time to reach you. Voicemails are checked daily. Please give your Board 24-48 hours to return your call.
Put your request in writing and place a SIGNED letter listing unit # and phone # in mailbox #28 Mattabasset Drive or place in brown mailbox at the pool office, 100 Natchaug Drive.
All payment fees should be mailed to:
Mattabasset Condo I
c/o Quality Reality, LLC
P.O. Box 1777
Wallingford, CT 06492
For questions regarding payments and resale packets, please contact Brian, Quality Reality: phone 203-949-1904 | email quality@snet.net.
Condo I Documents